Home
back to the top page
Project Catalog
see all available designs

EHBP-01 Straight design

EHBP-02 L-Shaped layout

EHBP-05 Portable - Mini

EHBP-07 Portable L-Shaped

EHBP-08 Round Project

EHBP-09 45 Corner Design

EMBP-01 3 in 1 Bar Back

EMBP-02 Juke Box



EHBP-20

Party Hut

EHBP-10 Classic Combo
Product Description

Save Gas!
by Entertaining at Home
45° Corner L-Shaped Wet Bar Design

variable sized section lengths

Plan Number: EHBP-09
Model: Standard 45° Corner Bar
Skill Level: Novice to intermediate
Length: 96+" / 96+"
Layout: symmetrical framing for either
left or right handed layout.
Estimated material cost: $250+
Plan Size: 35 pages
Format: Printable Adobe PDF



Full step by step framing instructions, 3D assembly diagrams, cut list and material shopping list. Start building today!
This 45 degree corner design is HUGE! It takes full advantage of 8 foot long lumber
and can the size can be modified up or down with just a few easy mouse clicks!
Using the CHBD, you can lengthen or shorten either leg to fit most any space.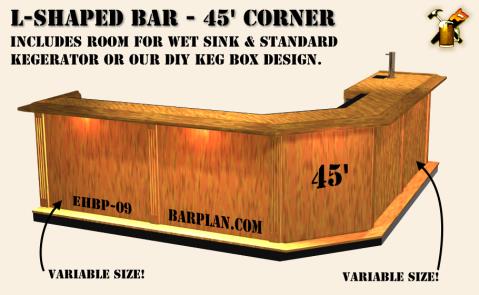 This cocktail bar design will accommodate even the biggest parties. Includes beer tapper option and provides plenty of wet drink preparation space for mixing cocktails.
This awesome Chicago Cubs themed project was build using this design. It features a Cubs logo workspace, Wrigley Field's famous ivy covered outfield wall on the backsplash complete with distance markers, plus an incredible shadow box top with a home plate and signed memorabilia. Full assembly instructions, dimensions, material cuts list and decor ideas.
(signed memorabilia and shadow box items not included. plans for core structure only)
Features:

Easy to Build.
150+ detailed photos to help you along.
Fixed 45 degree corner section includes sink space.
Beer & Mix Rail.
Foot Rest.
Features Chicago style arm rail.
Wet Bar / Cocktail Prep Workspace.
Sturdy, Stable Design!
Includes directions for DIY arm rail molding.
Variable leg sections using the CHBD tool.
Perfect for residential or commercial use.



one of many completed 45 degree corner bars

The 45 degree corner bar design is our most popular project. See more project photos.
* - price estimate is for the bar structure only. Electrical, plumbing, finishing, custom trim, fixtures, tanks or other equipment may vary so they are not included in the price estimate.
Build it right with our
time tested plans.
Testimonials...