Building A Budget Home Bar
You can build a Champagne bar on a beer budget.  Our Home Bar Designs help to keep your project on or even under budget. Materials run between $150- $750 depending on the project. Spend more or less by substituting materials. If you are totally broke, you could even substitute with pallet wood.
In creating your home bar you have three options:
Hire a professional contractor
Buy a manufactured bar unit
Build a do-it-yourself home bar project
Chose according to your budget. Read more about these options below…
Option 1: Hire a professional contractor
A contractor is your most expensive option. To refinish an entire basement and build a fully functional bar will start at around $10,000. If you have an ample budget and would like to avoid all the mess, then a contractor may be your best bet. Either way, it's not a bad idea to have a contractor stop by to do a free estimate. Their estimate might actually motivate you to do it yourself.
Option 2: Buy a Manufactured Bar
The second option is to do the basement renovation work yourself then buy a pre-made or manufactured bar. You can save a few grand on labor by doing wall framing and sheet rock yourself, but the bar alone will cost well over $1500 with some models well beyond $10,000. If you are looking for something very simple, perhaps a manufactured bar is right for you. Here is a popular wine bar offered on Amazon.
If $10k is in your budget, Contact us because we can line you up with a great Italian made bar ($8k-$20k).
Option 3: Do It Yourself Home Bar
The final approach is to tackle the entire project yourself. You'll save thousands in labor. You can get as elaborate or as simple as you wish. It will become a lifelong obsession adding decor and improvements to your bar. In the end, the DIY approach is much more satisfying and affordable, not to mention that your friends will be impressed. Check out these home bar photos of DIY home bars built by our site members.
The Real Money Savings!
Once you have built your home bar, the real savings start to kick in! Let's use a single 12 pack of beer as an example:
First, go to your local liquor store and buy a 12 pack of your favorite brand beer. That will run you about $10.00 at current prices. ($9.50 where I live)
Next, go to your local bar and buy 12 cans of beer from the bartender. At $3.50 per can (on average) that 12 pack will cost you $42.00! Now do the math: $42-$10= $32.00  You just paid for the plans and your lunch. Bottom line, drinking at home is much more affordable. (duh?) It's also safer.
Saving thousands per year!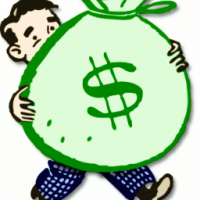 So, if you drink at home, you can save $32.00 on every single 12 pack you consume or $64 per week for cases. If you drink a case of beer per week, that comes out to an incredible $3,328 per year! ($64 x 52 weeks = $3328). With savings like that you could pay for one awesome bar project! Read more about saving money in the Cost of Beer article and check out the beer markup calculator.
Budget Home Bar Plans:
We'll help save you time, money and reduce your scrap material. In this economy, saving money any way you can is top priority, so don't let a dime hold up a dollar, the small plans investment will get you started on your affordable basement bar project today! Join Now
Please remember to always drink responsibly