Where to Purchase and How to Use Bar Arm Rail Moldings
Chicago Bar Arm Rail Molding:
If you choose to use Oak Bar Rail, also known as Chicago Style Arm Rail, you'll find it's the most costly part of your project, just behind bar stools. Arm Rail Molding typically runs in the $15 to $30 per foot range. Yes, it's a pricey item, but hardwood arm rail lasts forever, looks great, and is a worthwhile investment. Once you complete your bar project, you can start saving money over the local pub prices and that alone will help pay for both your bar stools and arm rail molding in no time.
Save money by using less expensive wood species:
Chicago style arm rail molding is typically sold in 4, 6, and 8-foot sections in a variety of premium species including Red Oak, Hard Maple, Cherry.
To save money, choose less expensive Ash or Poplar. The Ash & Poplar wood species can be stained in an oak or walnut finish and will not have a strong grain pattern. Poplar is a great choice for a straight-painted arm rail.
See suggested arm molding parts at our Bar store and below.
For large jobs or project material quotes, please feel free to contact us.
Buy it or Build It?
Cost to purchase vs. build it yourself.
If your budget allows, you can purchase arm rail molding online or from a local supplier.
But, if you're on a budget, you have options, one is to manufacture your own bar arm rail using our forum-based EMBP-06 DIY Cove Cut Arm Rail Guide. The other option is to just build a simple box arm rail as seen on our EHBP-01 and EHBP-02 plan sets. This consists of two 1″x 6″ boards connected with a lap joint then rounded over with a router. In addition, you can also build Padded Arm Rail using our forum-based EMBP-05 Padded Arm Rail Guide.  See all your bar arm rail options below.
Finding Affordable Bar Arm Rail
We monitor material prices regularly and the current hands-down winner for the lowest price on Chicago arm rail goes to Home Depot and their line of House of Fara bar arm rail moldings.


House of Fara 1-1/8″ x 4 1/2″ x 96″ Oak Chicago Bar Rail Molding
Lowest price : $64.35 / 8 foot section
BUY NOW
Find the closest Home Depot outlet near you, use the Store Finder on their site.
Buy Manufactured Bar Rail – Rockler:
Rockler Bar Arm Rail: The two models below are designed for a two-layer bar top design. Using a front lip board, they can be adapted for use with a single layer design.
5″ Small Profile Bar Arm Rail Molding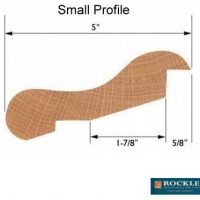 A shorter profile, slightly expensive (about $99 per 8-foot section). Red Oak, 8-foot section. Can be butt spliced for longer sections.
Available in Red Oak only. See datasheet.
6″ Large Profile Bar Arm Rail Molding from Rockler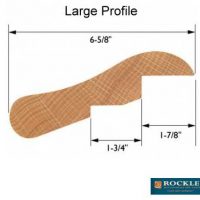 Longer, full profile, more expensive (about $199 per 8-foot section).
Available in red oak, cherry, and occasionally maple.
See datasheet.
Other online sources of bar arm rail:
Baird Brothers – Bar Top Rails
DeNoon Lumber – Bar Rail
We recommend DeNoon part #9801 as it is easy to adapt and install to any bar top configuration.
Hardwoods Incorporated – Premium Hardwood Bar Rail
Making your own bar arm rail molding:
As a member of our site, you can learn how to make your own Chicago Style Arm Rail with the EMBP-06 DIY Cove Cut Arm Rail Guide.
The guide shows you how to set up your saw and do the basic shaping procedures. It requires considerable skill so it is not for the novice builder, only recommended for those with some previous woodworking experience and a suitable router, appropriate bits, and a table saw.
The Simple Option – Box Arm Rail Molding
Any one of our designs can use simple box arm rail molding. This is very easy to make and is recommended for novice builders or if you don't have the budget for prefabricated arm rail molding.  The following plan sets use a simple box arm rail molding:
Padded Arm Rail Option
Taking the box rail option further, you can cover your rail using foam padding. For padded arm rail techniques, we offer the forum-based EMBP-05 Padded Arm Rail Guide to site members. See below for padding supplies. The following project uses a DIY padded arm rail approach:
Free Catalog
Get your FREE Rockler woodworking catalog…
Bar Arm Rail and Foot Rails on Amazon
More recommended bar arm and foot rail sources can be found on the bar store page.