Complete Your Bar Project:
Your project is not complete without a set of bar stools. You'll need them sooner or later because let's face it, unless there's a tense game on the big screen, nobody is going to want to stand around all night! Prepare your pocket book as a fancy set of bar height stools can set you back a few grand if you're not careful.
No Need for Ultra Fancy:
We typically don't need to decorate at that level so the $100 to $150 range (each) can get you into a very nice set of four stools for under $600 or six for around $900. Most orders include FREE SHIPPING. With additional sales you can trim another 10 to 25%. Check out the incredible selection at:


Offering savings on select models using the current discount code found on the following page:
– SHOP FOR BAR STOOLS NOW
What about Building Bar Stools?
I've looked into it and it would be very tedious for most people to build 6 identical bar stools. The curves and the mortise and tenon joints needed in the stretchers would be painstaking unless you're tooled up for the task. Even if you could build them yourself, the materials alone would get you pretty close to the cost of a set of perfectly matching, durable bar stools. Read more below or return to the Download Dashboard
---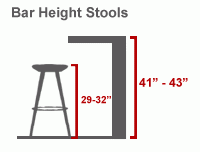 Complete your Home Bar Project with a set of quality bar height stools.
Before you start shopping, expect to pay between $75 and $500 each for new bar stools!
Spending  $125 to $175 each is about the range I've purchased from before. The chairs I bought are still in brand new shape 10 years later. They are a worthwhile investment that should last a long time. SHOP for BAR STOOLS
Bar stools come in a wide variety, metal to wood, classic to modern.
Once your stools arrive, no doubt you'll be enjoying a cocktail on your new comfortable bar stools, but staring at a blank wall…Here's an idea that will turn any wall from boring to mind mesmerizing in minutes… Wall Mount ELECTRIC Fireplaces!
---