Unique Wet Bar Design with Integrated DIY Keg Box or optional draft beer Kegerator unit.
Straight Wet Bar with Draft Beer Keg Box :
The EHBP-03 is our most popular straight wet bar configuration.
This is a great project for the do-it-yourself builder who wants their own custom Beer Kegerator at cost savings over a store-bought model. The keg box is built right into your bar. Perfect for dispensing both domestic beer and home brews.
Built-in Draft Beer Keg Box:
The project document shows you how to easily build the bar and optional keg box along with sources for the tapper & fridge equipment. Fits both 1/4 and 1/2 barrels using a low-profile Sankey tap coupler.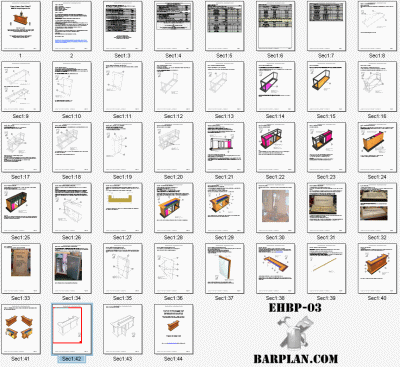 EHBP-03 Wet Bar Project Details
Plan Number: EHBP-03
Model: Wet Bar with DIY Keg Box
Skill Level: Novice-Intermediate
Length: 96″
Estimated material cost: ~$350+ (or much cheaper using pine rail & trim)
Plan Size: 44 pages
Format: Printable Adobe PDF

This project includes details on how to build the integrated keg box, plus sources for parts and troubleshooting help. Requires optional draft beer parts.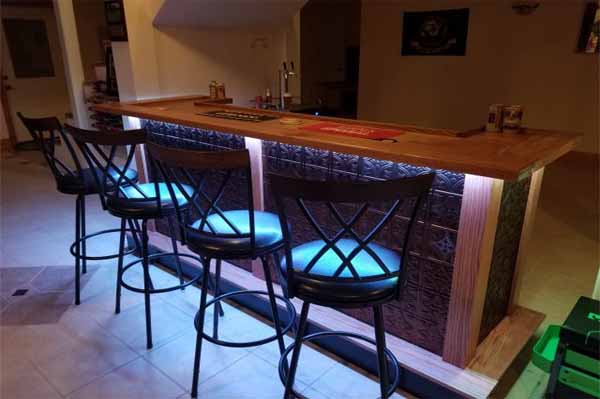 ---
The Straight Keg Box Bar Project includes free resizing using the CHBD tool.
Adjust the length, width, or height to your liking with a few clicks of your mouse.
---
DIY Keg Box:
This project is designed for those interested in the basics of refrigeration and beer dispensing equipment. Don't want to include the keg box? just omit a few parts. You can use the space for a compact fridge, store-bought kegerator, storage, or trash receptacle. Add optional doors and a lock for homes with children.  This bar can be varied in length using the custom design tool. The price estimate below is for the wet bar structure only, draft beer tapper parts extra*. Includes Step-by-Step Assembly Instructions, Material, and Cut Lists. Full 3D Assembly Diagrams. DOWNLOAD NOW.
Or Install a Kegerator Unit
Alternately, you can save some time by installing almost any kegerator unit. Here are some suggested kegerator models…
Finishing off the project with bar stools:
No home bar is complete without a nice set of bar stools. We've followed the online bar stool retailers for over 15 years. Amazon Prime now offers the best deal in quality bar seating. Shop for Bar Stools

A Small Sample of EHBP-03 projects built and submitted by YOU! – 8,500+ more full sized photos in the members gallery. Or check out the bar of the month Awesome Beer Bar for completed examples.
---
Check out the rest of the included Home Bar Designs.
The EHBP-03 requires tap tower parts from our preferred supplier MicroMatic. Parts include:
Tapper Tower – Beer Keg Coupling – CO2 tank and regulator – Beer line and optional drip tray
---