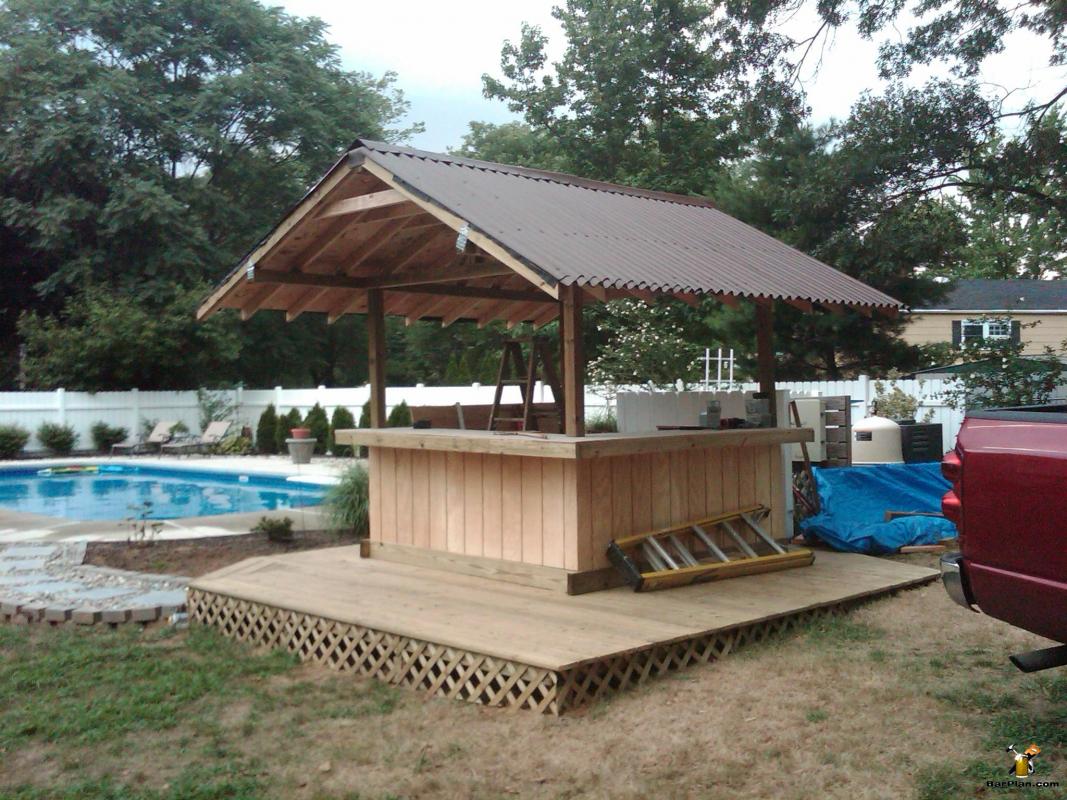 EHBP-20 Tiki Bar Hut Project
Slightly more advanced. BOM and Drawing dimensions included. 
Tiki Bar Hut Project – EHBP-20
Backyard Tropical Paradise – The Party Hut Outdoor Tiki / Gazebo Bar Project. This outdoor party bar is designed to keep sun and rain off your bar. Coming soon: EHBP-21 Portable Festival Tiki Bar Hut.
An extended roof provides more protection for your patrons. The project can be built in a variety of ways using several different foundation types. It can be retrofitted to existing decks, placed standalone, or on a concrete slab. The roof can be built as a simple gabled roof style as shown at left or easily modified as a Hip or Pyramid Hip roof style shown in the photo below. More sample photos at the bottom of this page.
Optional shutters protect your bar when it is closed or for winter storage. Easily expandable design. Check out the Tiki Bar Styles Page to find tiki thatch materials and decorations.
Plan Number: EHBP-20
Model: Party Hut – Outdoor Tiki Bar & Gazebo Project
Skill Level: Intermediate
Length: ~ 144″
Height: ~ 120″
Estimated cost to build: ~$500+ varies depending upon configuration and materials. variable depending upon selections.
All-weather Usage: Designed to be useful winter, spring, summer & fall, this easy-to-build outdoor shelter will protect your party from sun and rain.
Finishing off the project with bar stools:
No home bar is complete without a nice set of bar stools. We've followed the online bar stool retailers for over 15 years. Wayfair and their Barstools Direct warehouse still offer the best deal in quality bar seating. Shop for Bar Stools

This bar requires "Bar Height" stools. Click image for models.
---
Party Hut Bars Built by YOU!
Check out the rest of the included plans in the Bar Project Catalog.
WARNING: This bar and hut project requires a solid foundation to prevent the bar from being damaged or causing collateral damage in the event of high winds. Always check your local building codes and restrictions before attempting construction.
Plans include foundation suggestions, 3D assembly drawings, and construction tips to guide your project. A building permit may be required in your area. Barplan.com is not responsible for any damages resulting from the use or installation of any of our home bar designs.