The easiest plan set we offer. Build it in an afternoon, and be ready for the inaugural party the very next day. But it may take a lifetime to decorate! 
The easiest plan set we offer. Build it in an afternoon, and ready to party on the weekend.
Basic Straight Bar Design
The EHBP-01 is our most basic bar design. This 8 foot straight / inline bar is perfect for a variety of applications. Use it indoors or outdoors.
It's stable stand-alone design is great for rental properties where you may not want a permanent bar fixture.
Add rolling casters for a truly mobile bar. This is also a great foundation for an outdoor tiki bar. Just add thatch, bamboo trim and a patio umbrella to the center of the bar.
Suggested Use:
This basic bar design is great for weddings, festivals and outright frat house beer bashes. Build several to rent for weekend events. Easy enough for even the most novice of builder's. Build time is about 4 hours or less.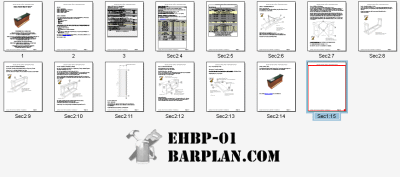 EHBP-01 Construction Plans Set Overview
Plan Number: EHBP-01
Model: Eight Foot Inline Bar
Skill Level: Novice
Length: 96″ – variable
Estimated material cost: ~$175+
Plan Size: 15 pages
Format: Printable Adobe PDF

Basic steps for building the EHBP-01 Straight Bar Project:
Begin by cutting and laying out the base foundation as described in the plan set.
Cut and assemble the two upright framing sections.
Cut and fasten the top cross members.
Apply front and side sheeting
Cut, place and fasten the bar top sheeting per the instructions.
Measure, cut and fasten the arm rail and foot rest per the plan set instructions.
Sand, finish and apply any decorative trim.
This project is heavy and stable enough to withstand abuse, yet light enough for two men to move into place. Includes full step by step framing instructions, 3D assembly diagrams, cut list and material shopping list. Back is open for custom shelving, kegerator or fridge and waste containers.
Basic Bar Design Options:
The back, or bartender side of the basic bar is completely open to configure as you see fit. Here are some ideas for things you can add to the back bar area.
Optional 16″ high shelves for liquor bottles and glassware.
Add a mini bar fridge up to 32″ high.
Add a kegerator, detach tower or drill a hole for draft tower.
Garbage can.
Dishwasher.
Locked liquor cabinet.
Stereo or karaoke equipment.
Plan set provides the open space that you can then populate with whatever equipment you like.
---
This straight bar project can be nominally resized in length, width and height.
The CHBD is completely optional and NOT required to build the standard model.
---
Finishing off the project with bar stools:
No home bar is complete without a nice set of bar stools. We've followed the online bar stool retailers for over 15 years. Our sources offer the best deal in quality bar seating. Shop for Bar Stools

---
Here are just a few samples of bars built by our site members using this plan.
---
Check out the rest of the included plans in the Bar Project Catalog
Sample Basic Straight Bar Project Built by Site Member Mike M.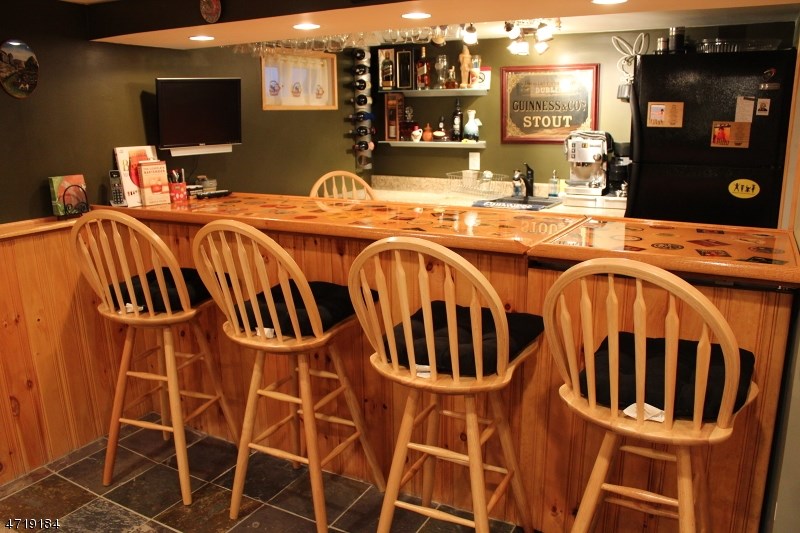 Mike says – "This bar was built following the ehbp-01 basic bar design plan set. I modified a few things along the way – most notably the flip up top section on the right of the bar top. The top itself is plywood with oak veneer on top, beer coasters glued to the veneer, then sealed with 2 part epoxy resin. The trim is oak. The front is finished in pine boards so that it matches the walls in the room. The back bar is a custom built cabinet that loosely follows the plans for the bar (just shorter, lower, and with doors)."
– Great job Mike!