Round Bar Project
The EHBP-08 Round Bar Project shows you how to build a round corner bar. This project features enough room for two bartenders and a unique padded arm rail system with how-to details for building your own custom padded arm rails. This plan is easily modified into many different configurations.
Project plans document includes cut out templates for sheet stock and includes plywood bending methods. Padded arm rail design on this model (shown below) can be adapted to any of our other bar projects saving a considerable about of $$$ over hardwood arm rail moldings.
---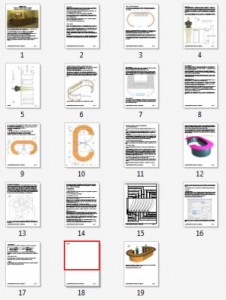 This full sized round bar can be built in one of several ways.
You can built the entire bar or just build one of the curved sections.
Taking it a bit further, you could split each half circle into quarters then insert straight sections for a really big bar with room for a central island.
This design document is a great guide for anyone interested in building a round corner bar or incorporating a round corner into one of our other designs.
---
Sample photos of round bars built by our members.
---
Check out the rest of the included plans in the Bar Project Catalog.