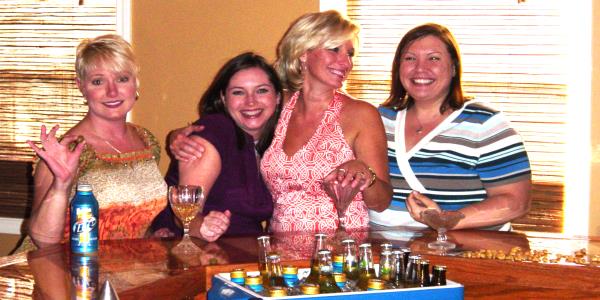 Home Bar Styles
One of the first considerations in starting your bar project is to either work around a specific bar theme or stick with a classic home bar. This page can point you to sections of this site that may offer some bar style starter ideas.
Seasonal Bar Styles
Seasonal bar themes are a popular starter, we've classified projects by their relative style as it relates to the four seasons, check out theses bar style sample by season: Winter, Spring, Summer and Fall.
If you need more ideas for a bar theme, see the list below or just focus on a favorite nightlife activity, possibly a dance club, casino, sports bar, biker bar or anything that literally floats your boat….or even sinks your boat.
Other Bar Style Ideas:
More theme ideas might include location specific, like a cool bar pub in your basement, garage, apartment, loft, college frat house, dorm room, cottage, beach, tiki, patio, pool side, indoors or outdoors. Just about anywhere.
Member's Bar Themes:
Need more ideas for your bar theme? Take a private home bar photo tour to show you what other site members have built to give you a design head start and great ideas for planning your custom bar project. The Bar of The Month section feature some of the top projects submitted by members.
There are plenty of ideas all over this site!
Just need help getting your man cave bar project going? Read our Basement Bar Construction Primer.
Nightlife Bar Sample:
This cool Salt Water fish tank bar was built using the basic l-shaped bar plans as a guide.
A. Tracey built the bar, then hosted some wild party's for his friends. The highlight of the night (one of many I'm sure) is feeding time for the exotic Lion fish which resides in the tank.
The top is made of a clear plexi glass window which allows viewing of the feeding frenzy  from above… cool!
This is just one example of the outrageous custom jobs you can do on your own bar project. More photos in the members site.
Our members have knocked out some cool theme bars including: Sports Bars, Billiard Bars, Rustic Taverns, Western Saloons, custom inlaid tops (even one using old Hockey sticks!), Tropical and Tiki Bars. We have several examples of salt and fresh water fish tank versions  too! The new CHBD Bar Resizing Tool also helps you create a customized bar layout.
Our plans do not specify individual styles, rather they instruct you on how to build the core which is then decorated by using suggestions on the site and from samples found in the Builder's Gallery.
Some Home Bar Styles to consider could include:
California Style
Casino Style
Cleveland Bar
Detroit Rock n Roll
English Pub Bar
German Brew Pub
Las Vegas Style
Los Angeles Style
Metropolitan Nightclub
Miami Style
Milwaukee Bar (The Safe House)
Minneapolis Style
New Orleans Style
New York Bar
Philadelphia Style
San Francisco Style
Seattle Style
Southwest Style
Washington Style
50's Style
Art Deco Nightclub
Brew Pub
Cigar
Country Bar
Disco
Health Club
Juice Bar
Karaoke
Nightlife Bar
Piano Bar
Rock n Roll