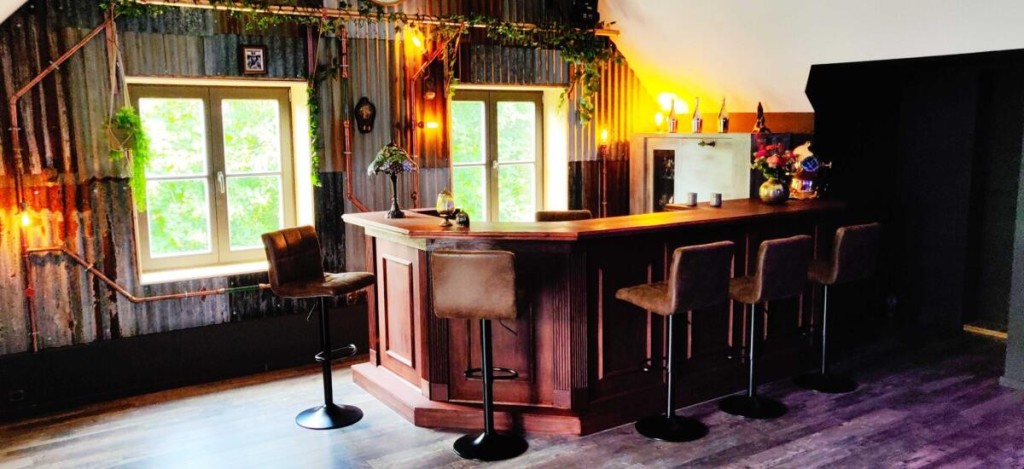 Steampunk Inspired Home Bar Beauty
Steampunk home bar themes are a relatively new trend in decor defined by merging classical design elements with industrial decor elements and materials. There are some pretty cool real-world examples, most notably are commercial steampunk theme-based establishments like Lucky Strike with 20 locations nationwide, or more private establishments like The Alchemist located in White Bear, MN.
Barplan.com has members worldwide, so whenever I see projects submitted from beyond the shores of the USA, I get really excited. This recently submitted project built by Carl N. in Belgium is just such a project. Carl used the EHBP-09 45-degree corner bar plan set to top off his rec room renovation project in a second-story loft. This project came together great and the final result is amazing..but I'll let Carl explain the project in his own words…
From The Builder
Carl writes: "We bought a new house over a year ago and the house had a big room that had been used by the previous owner as a playroom for their children. The room was dated and had about every color of the rainbow painted on the wall.
Because our children are young adults, I had the idea to create a fun place for young and old, where everybody could chill out and relax, watch a movie, play some videogames or have a drink with friends. I always wanted a home cinema and now that we had the perfect space for it, we were thinking about what else we could do with this room. We hired a few contractors to redo the main structure of the walls, isolation, and electricity (I'm no handyman). I would (try to) finish the rest.
Building my own bar was not the first thing that came to my mind. The main reason why is that I had never done any woodworking project. Besides a jigsaw, I didn't own any woodworking tools, and as a major in computer science, I had little to no knowledge in constructing or building whatsoever. However, because we enjoy inviting people and having a fun time with friends and family, a bar looked like the perfect addition to our entertainment room.
I always admired people that could create and build something from scratch, so I started searching on the internet for information about woodworking. I realized that with little knowledge and no plans, it would be a tedious task. That's when I found your website. I invested some money in a miter saw some basic tools and started my project, step by step, supported by lots of tutorials on YouTube to expand my knowledge about woodworking techniques.
We decided to go for the plan "EHBP-09 – L-Shaped Wet Bar", with a few custom adjustments.
The most difficult part of the whole project was starting out with a serious lack of material knowledge. I had to find out how the materials translated to my own language (I'm a Belgian speaking Dutch) to buy the correct materials at my regional DIY store. Also, the common lumber measurements (2×4, 1×4, …) didn't really match with the commonly sold lumber dimensions in my country, but a little research does wonders.
For the finishing touches, we decided to go for a classic English look. The main theme for our entertainment room is "steampunk" (British Victorian era with a touch of industrial influences).
Lots of working hours later, I managed to finish our bar and I couldn't be more proud. I'm sure that without barplan.com, the result wouldn't be the same. Being my first project, I came a long way and with the help of barplan.com, I learned a lot. I'm now even starting to develop a passion for woodworking and I'm already planning new woodworking projects. Many thanks to barplan.com for providing such easy-to-follow plans and helping me to create the perfect bar to enjoy with my loved ones!"
Best regards, Carl
Steampunk Home Bar Construction Video
The following two videos walk through Carl's construction process using the EHBP-09 plan set. Part one covers the renovation process and bar construction, and part two shows off the cool Steampunk decor. His project may be an inspiration for your own steampunk-themed home bar project.