Super Bar?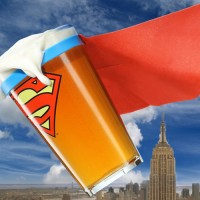 It's a bird, it's a plane! No wait, it's a BAR!  There were no other words I could come up except for the obvious, "man that's one Super Bar!" If you've logged into the gallery lately, you may have seen photos of this bar glowing like Kryptonite.
Something about the beautiful laser like colors just drew me in and when I magnified the photos I was amazed at the awesome job completed by site member Mike S.
Super Nice!
While everyone has done equally excellent work. Mike's bar is hands down one of the nicest looking bar projects I've seen in some time. It's the whole package!
Start with the the bar itself featuring Chicago arm rail and the incredible copper bar top.  (I hope Mike follows up to clue us in on how he created that awesome copper patina, liver of sulfur perhaps?) Then the perfectly aligned bar & bar back combo (part of the EHBP-10 forum topic) the trim detail and the coup de gras, the LED bar lighting.
Electric Lights:
I'm not sure if multi-color LEDs were used (my PS tweaking had bumped the photo colors out a bit) but they look great! The electric blue LED light reflection on the work space counter is amazing. LED lights create a more coherent and pure color of light than incandescent of fluorescent bulbs. It simply looks amazing.
So, Mike's Super Bar is our April BOM (bar of the month – for which I need to make plaques).  Take a look for yourself! Enjoy!
The project combines the EHBP-09 45 degree corner bar project with the EHBP-11 bar back. Mike appears to have built the shelf lighting coves to light the objects on the shelve from the back. Many people decide to skip that part because of the opaque plexi cost. It's worth the extra effort and price. Mike clarifies in the comments below.
Drop us a line in the comments section below and let us know what you think about this project. Mike did an incredible job! Great results from a $20 home bar plan membership.
Add comments below…
---