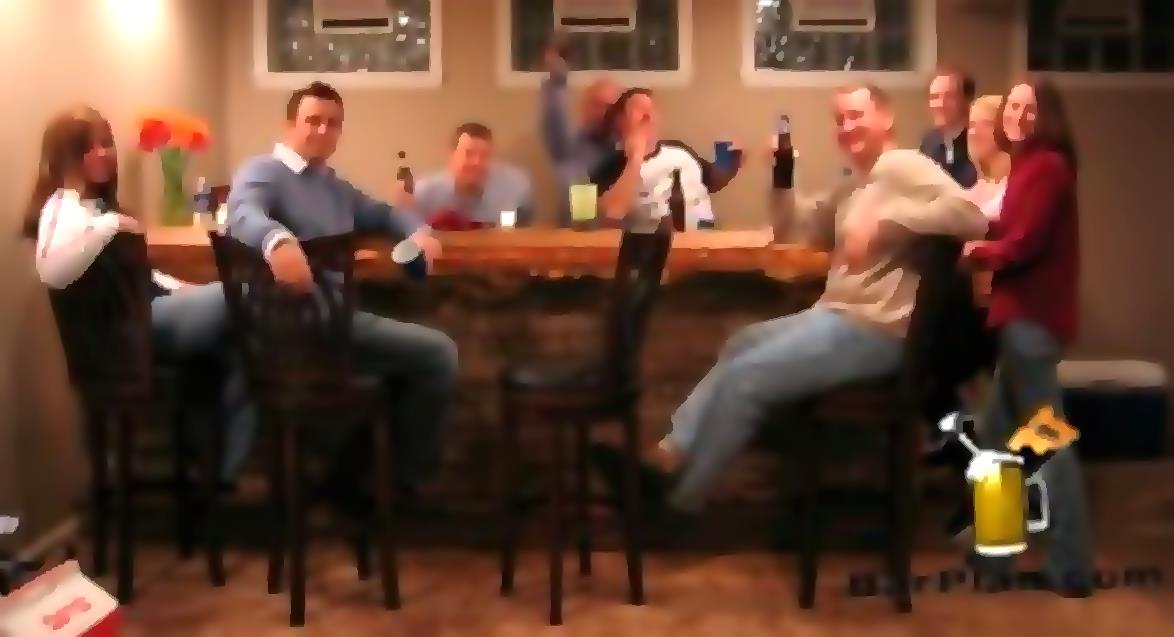 By DAKOTA SMITH / S. WEBB
This article originally published on February 11, 2006 by the New York Post, edited for new content and re-released 3/29/2020.
When the home is where the bar is, every hour can be happy hour.
One alternative to dealing with the city's bar scene and its loud crowds, $12 cocktails, and skanky bathrooms: Put a bar in your apartment and bring the party home.
Private Social Space
When Jeff Krasno and his wife, Schuyler Grant, moved into the Smith Gray Building in Williamsburg four years ago, they spent two months turning the raw space in their basement into a swanky Art Deco-inspired lounge.
Along with a 6-foot-long oak bar, the 900-square-foot area includes retro-looking bar stools, a pink couch, a fake fireplace and a card table. On any given weekend, the couple hosts a cocktail party, engagement party, baby shower, or simply a card game.
Additionally, Krasno, who heads up record label Velour Music Group, invites local musicians to play in the lounge as part of his ongoing "speakeasy" series (the company intern doubles as a waiter).
"It's much easier to socialize here," Krasno says. "You're not out haggling at the bar for a drink, and you can actually have a conversation with your friends."
While the couple found their oak bar in a Delray Beach, Fla., antique store and hit up shops in Hudson, N.Y., for the other furnishings, many local stores offer antique and modern bar-related goods.
Vintage Bar Decor
Mood Indigo (181 Prince St.) sells vintage barware such as glasses, trays, and stirrers from the 1930s to 1950s, including cobalt-blue glass cocktail shakers ($165). Additionally, wine racks, blenders, sinks, and cocktail shakers, as well as specialized items like Mojito Muddlers ($6.25) and julep strainers ($2.50), can be found at Bowery Kitchen Supplies in Chelsea Market (88 10th Ave).
As for the bar itself, antique stores like Las Venus (163 Ludlow St.), routinely stock vintage bars, such as a 5-foot-long Lucite bar ($1,950) and a 41/2-foot-long leather-top bar with two matching cowhide-covered bar stools ($1,650 for the set), both currently available.
Do It Yourself Digs
For those interested in building and customizing their own bars, there are a surprisingly high number of Web sites that offer pre-made bars and plans. Barplan.com sells plans for keg-box bars which can be built for $200 and up, and L-shaped bars for $500 and up; both styles should fit in your shoebox of an apartment, assures Steve Webb, owner of the Green Bay, Wis.-based Web site.
But getting the bar is just the beginning. Many of Webb's clients have tricked out their bars to create 1950s Rat Pack-style bars, Harley biker bars, or sports bars.
Ordering plans off Barplan.com, Long Islander Doug Kaler used the plans as a guide to building an elaborate 16-foot tiki bar – complete with a thatched roof – in the backyard of his Mount Sinai home last year.
Hiring the Work Out
Meanwhile, those with the cash can also hire someone to build a bar. Installing a high-end wet bar typically costs $8,000 to $20,000, depending on the type of woods and stone finishes, according to Chris Hughes, a contractor who frequently installs bars in high-end uptown apartments along Fifth Avenue.
Downtowners love their bars, too. Stephen Fuller, a fashion photographer, keeps a leather-topped bar in his loft on Lafayette Street. Magazine editors and models carouse and chat at the bar, which Fuller acquired during a video shoot last year.
Besides the obvious social element of having a bar, it's nice to have a place to store all those liquor bottles, rather than keep them on the top of your refrigerator, says Fuller.
"Then it's not so obvious what a party hound you really are," he says.
From the S. Webb – 14 years later Barplan.com is still helping home bar enthusiasts build the bar of their dreams…or the best they can afford. Twenty years and still at it.