Introducing the Quarantini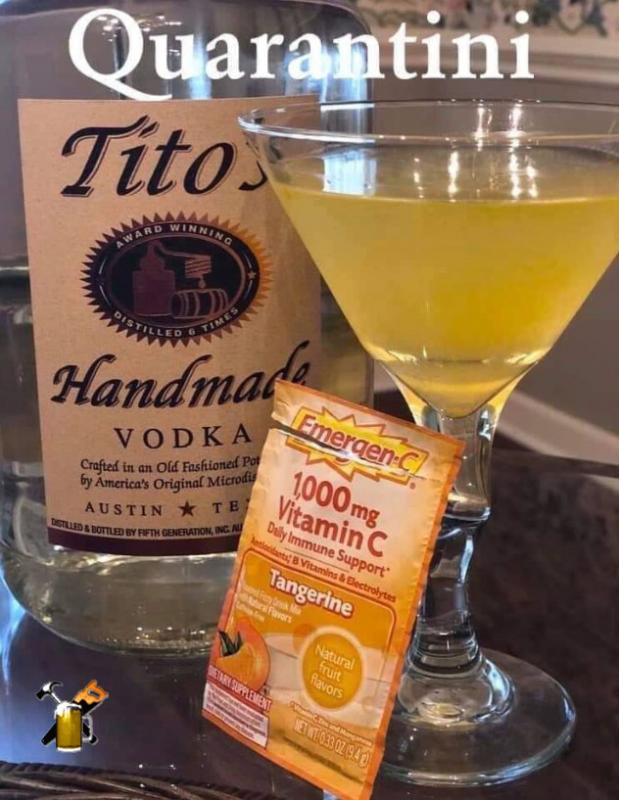 What's better than sitting at home in isolation under "self quarantine"? A Quarantini!
With the 2020 global pandemic crisis, our government has now issued a national state of emergency and is recommending people stay in their homes as much as possible in a process of "self quarantining". Not sure what the majority of people who actually work for a living are expected to do, especially those in the healthcare industry. Perhaps supplementing the immune system would be in order…hence the Quarantini.
After a hard day mingling with the masses, you will definitely need a way to relax AND boost your immune system. Your home bar is the perfect place to stay entertained, hydrated and relaxed. The Quarantini could very well be the perfect solution for all three. A word of warning: Emergen-C does not necessarily recommend mixing alcohol with their product (unless it greatly increases sales), but there certainly is no harm as it's the same as mixing alcohol with orange juice. If you're  not into fruit martini's, check out Hawkeye's Dry Martini recipe.
Quarantini Recipe
What you'll need:
One packet of Emergen-C powder mix
Your favorite brand of Vodka
Distilled or RO water and ice.
A cocktail shaker.
A Martini glass.
Directions: 
Combine the contents of one packet of Emergen-C powder along with 2 shots of vodka, 8 ounces of distilled or RO water and ice into a standard cocktail shaker. Shake 30 seconds until powder is completely dissolved. Pour into a Martini glass and enjoy.
You can optionally garnish with your favorite fruit. Orange, lemon or cherries are good choices for added fiber.
Sources for items required:
Cocktail Shakers
Martini Glasses
Clean Reverse Osmosis Water Systems