April 2008 Home Bar Contest Winner!
We have a winner of the first official Home Bar Photo Contest. The honors and $50 go to Robert W. of Crete, Ill.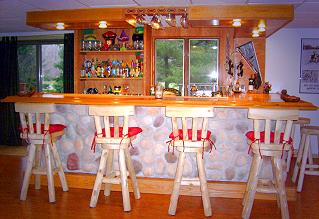 April 2008 Winner: Northwoods Bar Theme Field stone bar front application.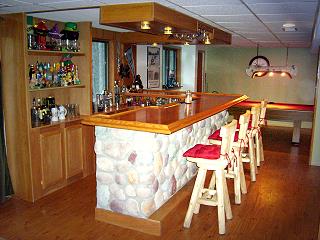 His unique Northwoods Theme and use of field stone edged him out over TONS of other great project entries. It was a close race between
his bar and at least two dozen other  excellent projects.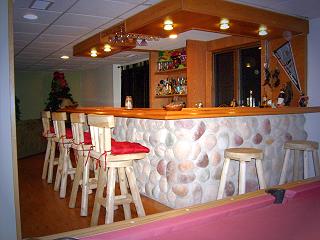 Bob's craftsmanship and creativity along with excellent overall appearance of the finished project stood out as one of the best.
Photo composition also earned Robert the prize by capturing the entire bar scene floor to ceiling and left to right and from four different angles.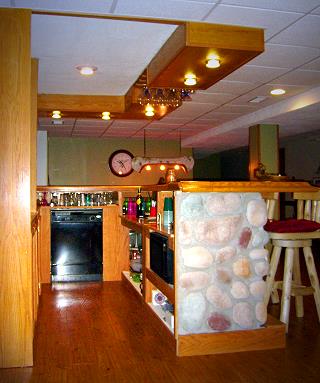 Bob tells us, "The bar is the focal point of our walk out basement, in a country setting but within 60 minutes of downtown Chicago. First time ever woodworking project attempted.     In remodeling the entire basement ( again first time ), our motto was 'everything twice' and we were OK with that as long as we were learning and having fun ( and not making to many costly mistakes ). The L-Shaped bar plan was the starting point and then improvised. Enjoyed the project and enjoying the results even more."
Bob also added "I was definitely amazed (at learning of winning), especially if you could have seen our struggles at the onset. Everyone involved in this creation appreciates your support!"
Thanks, Bob W.
Thank YOU Bob & Congratulations!