Basic Basement Bar Improvement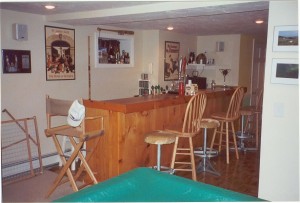 "We refinished our basement and I really wanted to build a nice bar.
Looked for months for plans on-line, but didn't find anything I liked. Your plans were great, easy, and it only took me a weekend to complete the project.
I adapted your designs to fit my 12 foot space, and added a two tap draft tower. Broke it in with a party a couple of weeks ago and people loved it (they couldn't believe I built it myself).
My problem is now I keep looking for ways to improve it. It's a perfect complement to our pool room.
Thanks again!"
Bill G – Braintree, MA